Best Online Craps Real Money

Practice playing online craps for free or real money. We offer the top virtual destinations with the best craps casino bonuses. Craps online is a popular dice game that you can enjoy in a casino or informal setting. With this guide, you can compare the best online casinos for craps games. Join the fun by rolling placing your bets and rolling the dice to stand a chance of winning real money. Use this guide to reveal the best kept online craps secrets, rules, and bets. Play on your mobile or desktop for fun or real money!
Sign Up to Play Online Craps
Online Craps for Fun
To learn the craps game, players need to practice it continuously. Luckily for online players, they can enjoy all the online craps practice they desire. This way you can practice the online craps game for fun. Simply choose any craps game and play for fun. So, no matter which way the dice lands, you won't have to worry about losing money. Before playing online craps for money, players should have first mastered the pass line bet. This is the most basic of bets available in this casino dice game.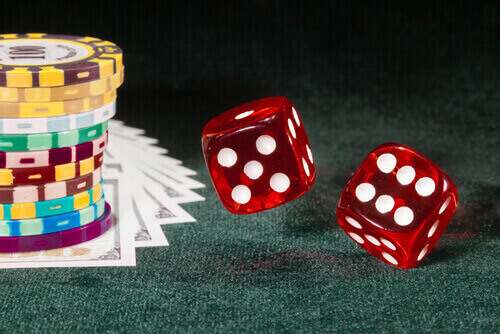 Online Craps Practice Table
Craps is a casino game that uses a pair of dice to decide an outcome. The dice is thrown on the craps table and signifies whether certain bets win or lose and if the round ends. It doesn't take a craps expert to learn the different types of bets you can make. In fact, any craps player can become an expert by simply learning the basics of the pass line bet.
Pass line bet
The pass line bet is an even-money bet. Simply put, players stand to win the exact amount they bet. The shooter is the person rolling the dice and must start every craps game with a come-out roll. A pass line bet wagers on the chance of the dice landing on a 7 or 11. A 2, 3 or 12 will be a loss.
Don't pass line bet
This is the opposite of the pass line bet. That means that shooter needs to roll a 2, 3 or 12 for the even-money bet to win. Rolling a 7 or 11 will be a loss for this bet.
The point round
A point round is started if the dice lands on 4, 5, 6, 8, 9, or 10 on the come-out roll. To win this round, the craps player must roll the point they rolled previously before a 7 is rolled.
More Online Craps Casino Information
Best Online Craps Bets
Online gambling with craps is simple. However, if you are new to the game looking at the craps table for the first time may daunting. To help players get started, we have put together a craps trainer with the breakdown of rules.
Craps
The name of the popular dice casino game. It also happens to be the name of the numbers: 2, 3 and 12. The significance of this is that with the first dice roll, if any of these numbers are rolled, it is results in an instant loss.
Pass Line – Bet
This is a bet that the shooter will roll a 7 or 11 during the come out roll. It is also a bet on the point number being rolled before an 11 during the point phase.
Don't Pass Line – Bet
This works opposite to the Pass Line bet. Here players are betting that a 7 will be rolled before a 7 is rolled.
Come – Bet
You'll be able to place bets here after the come out roll, and you're essentially betting that the dice will pass.
Don't Come – Bet
This is just like the Come bet, except it's the opposite. Very simple.
Field – Bet
Field bets let you bet on which number you think will be rolled. You can bet on 2, 3, 4, 9, 10, 11, or 12.
Place Bets
Look for the numbers 4, 5, 6, 8, 9, and 10. Go ahead and place your bet on these numbers. You'll land a payday if your number is rolled before a 7.
6 or 8 – Bet
This is very similar to a field bet of 6 or 8, with the exception that you're betting on a giant 6 or a giant 8. This is actually a sucker's bet, but we'll have more on that in our strategy section.
Hardways – Bet
Place one of these bets and you're predicting that the shooter will toss a 4, 6, 8, or 10 as a pair before that number comes up as a non-par. For example, if you bet on a hard 5, you're betting that pair of fives will hit before a 6 and 4. Of course, if a 7 drops, you're done.
Any Seven – Bet
Think the next roll will be a 7? Drop your chips on Any Seven.
Any Craps – Bet
If you believe a 2, 3, or 12 will drop next, bet on Any Craps.
Quick History of Online Craps
Craps has several theories of where it originated from. A few theories include it being derived from a 12th Century, Old English game called Hazard and a French game called Crapaud. Crapaud is the French word meaning toad, which is a direct reference to how street craps was played. Players would crouch and bend their legs like toads on the sidewalk while playing craps.
However, with the introduction of online craps, players don't need to crouch or stand to play this casino game. Craps online offers players comfort like never before, as they can play from their homes. This casino dice game has also grown in popularity since it made the conversion online.
Top Online Craps Casino
POWERED BY Real Time Gaming
250+ CASINO GAMES
CRAPS GAMES
Secure, fast deposit methods
Tips for Online Craps Games
There is no hard and fast craps strategy that players can adopt. However, this casino game can still give players large real money payouts. Here are some free tips when playing online craps to help you become a craps expert:
Online players can enjoy any casino game for free at leading casino sites; this includes craps. Take advantage of our unlimited free play to get to know all the bets available in online craps.
For the craps player new to this casino game, always stick to the pass line bets. These have a lower house edge and give players more chance of winning.
Always gamble responsibly. We encourage our players to always set a limit to their bankroll and playing time. Take regular breaks to increase attention span and concentration.
FAQs for Online Craps Games
Can I win at online craps?

The concept that it is possible to win with all types of casino games is, to some extent, more of a myth than anything else. This is mainly because with every form of gambling the house always has an edge. However, with craps it is completely possible for players to walk away from the table with more real cash than what they came with. To make this a reality, players need to understand the craps game and how to play.
Can you play craps online?

Craps is a fairly simple game to play. Players start by placing a bet a Pass-Line or Don't Pass Line bet. These bets are the most common bets to place and determine how the rest of the round is played. Once these bets have been placed, the shooter will roll the dice.
Can you play craps for money?

Yes, players can enjoy craps for real money rewards at the best American casinos online. However, if you feel you are not ready for real money craps, players test the waters with free craps online.
What is the best bet for craps?

There are a number of different bets worth playing in a game of craps.

Don't Pass Bar: This bet is a better option than the Don't Pass Line bet.
Pass Line: This bet is fundamental to the craps game. It is one of the first bets made on the craps table. This bet also determines how the rest of game is played out.
Place 6 and Place: These two bets offer some of the best rewards on the inner-table action.
Is the field a good bet in online craps?

The field bet offers players some rather good odds which players can easily benefit from. It is one of the most common and popular bets. It is a bet on the shooter rolling a 2, 3, 4, 9, 10, 11, or 12. Players will win with this bet if the shooter lands one of these numbers. The house edge for is bet sits at a fair 5.56%.
How much does snake eyes payout in online craps?

Snakes eyes are one of the hardest dice rolls in the craps game. It is also one of the rarest dice rolls to land on the craps table. The odds of this dice roll are 1 in 36 and payout 30:1 when they do land.
How do you win at casino craps?

The first step to winning with craps is to place the pass and come bets. These two bets have the best odds of winning and the lowest house edge. You can't go wrong with these bets.
More Casino Games Guides