Gambling in New Jersey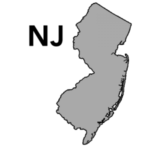 New Jersey is home to one of the biggest gambling cities in the US, Atlantic City. New Jersey is also known as the Garden State. Players can find some of the most popular casinos in the USA in AC. In NJ, players can bet on various forms of betting. Anything from lotteries, horse racing, and gambling games - both online and in land-based casinos, real money bets are permitted. New Jersey is one of the best states to gambling as they feature some of the least restrictions.
Players can read on for an inside look into New Jersey's gambling history, best casinos, forms of legal gambling, and more!
Best Gambling Sites in New Jersey 2023
Gambling Laws in New Jersey
New Jersey features rather lenient gambling laws compared to other states. This makes great flexibility with the forms of gambling permitted in NJ. Currently, there are a wide variety of casino games players can bet on; this includes online and in actual casinos. Bets can also be placed on bingo, lotteries, and horse racing. However, players are required to reside within the borders of the NJ state but do not need to be NJ residents. Players also need to be at least 21 years of age.
Online gambling is also permitted in New Jersey. It is one of three states in America where online gambling is legal. They also offer the largest online gaming markets. The gambling website of the NJ Government has five operators that are approved by lawmakers. These include:
Tropicana
Borgata
Golden Nugget
Caesars Interactive
Resorts Casino
Types of Online Gambling Allowed in New Jersey
There are many different forms of gambling that is permitted in the state of New Jersey. However, these forms need to be licensed and regulated.
Casino Gambling and
New Jersey is home to 29 000 slots and 1440 table games across seven commercial casinos. The largest casino is Bally's in Atlantic City, which hosts 5 200 slots and 230 table games. The second biggest is Borgata Hotel Casino and Spa. Here players will find 4 000 slot machines and 230 table games.
The types of casino games players will find in Atlantic City include:
3 card poker
Baccarat
Blackjack
Craps
Poker
Roulette
Slots
Arcade-style games
Charitable Gaming
Charity gaming is legal in New Jersey. However, there are some restrictions in place.
Only selected groups are approved for charitable gambling events. These include: Churches, religious groups, educational organizations, civic clubs, fire departments, first-aid squads, senior citizens, and veteran associations.
Games charities were restricted to: Casino nights, Lotteries, Pools, Pull-tabs, Raffles.
100% of the proceeds are required to go to the state causes.
Charities must obtain the correct licenses.
Casino nights have strict stipulations and rules that need to be adhered to.
Horse Racing
New Jersey features some of the most historic racetracks in America. This includes the Freehold Raceway, which dates back to 1853. There is also Monmouth Park, which opened in 1870 and the meadowlands Racetrack, which opened in 1976. Each of these racetracks features grand events and bring in millions on of dollars.
State Lottery
State lotteries were established in 1971 and are one of the biggest contributors to the state's gaming revenue. It generates approximately $3.3 billion in ticket sales. It has also given about $1 billion to fund state schools and various other programs.
State lottery games include:
6 Pick Xtra
Pick 3
Pick 4
Cash 4 Life
Card Cash All In
Jersey Cash 5
Mega Millions
Powerball
Live Poker
In New Jersey, players will find over 200 poker tables in Atlantic City. Poker variants include: 7-card stud poker, limit hold'em, mixed games, Omaha, Pot-limit, and Texas Hold'em.
There are also six live poker rooms located at:
Bally's (Home to 85 poker tables)
Borgata (Home to 80 poker tables)
Caesars (Home to 24 poker tables)
Harrah's (Home to 40 poker tables)
Resorts (Home to 19 poker tables)
Tropicana (Home to 27 poker tables)
Best Casinos in New Jersey
Casinos
Games
Other Services
Contact
Resorts Casino Hotel


Slots
Table Games
Sports Betting

Restaurants
Bars
Conference and Wedding Venue

1133 Boardwalk, Atlantic City, NJ, 08401
(609) 340-6300
Hard Rock Hotel Atlantic City


Slots
Table Games
Sports Betting

Bars
Nightclubs
Restaurants
Spa

1000 Boardwalk, Atlantic City, NJ, 08401
(609) 449-1000
Golden Nugget Casino, Hotel & Marina


Bars
Nightclubs
Restaurants
Live Entertainment

600 Huron Ave, Atlantic City, NJ, 08401
(609) 441-2000
Ocean Casino Resort


Slots
Table Games
Sports Betting

Bars
Nightclubs
Restaurants
Live Entertainment

500 Boardwalk, Atlantic City, NJ, 08401
(609) 783-8000
Caesars Atlantic City


Bars
Nightclubs
Restaurants
Live Entertainment

2100 Pacific Ave, Atlantic City, NJ, 08401
(609) 348-4411
History of Gambling in New Jersey
Gambling in New Jersey does not have a long history. Below we look back to where it all started and how it has evolved into what it is today.
1800's – Lotteries
During the 1800's New Jersey was most popular for holding lotteries. The funds from these government-approved lotteries were used to local projects. These included building some of New Jersey's most prestigious universities.
1844 – No more Lotteries
The selling of lottery tickets, even to raise funds for local projects, was prohibited. New Jersey locals could no longer purchase lottery tickets in the state.
1970 – NJ Lottery
The Garden State passes a law for a state-wide lottery. This came after a state-wide referendum in 1969. This was the first time any form of legal betting was permitted in over 100 years.
1978 – First AC Casino Opens
Gambling was first legalized in 1976. However, it was only in 1978 when the first casino opened. It took two years to build Atlantic City's first casino. The Resorts Casino Hotel on the Atlantic City Boardwalk was also where the first set of dice was rolled.
1991 – 24 Hour Gambling Opens for Weekends
Until 1991, casinos were only permitted to operate for 18 hours of the day. In 1991, Governor James Florio permitted casinos to operate 24 hours, but only on weekends.
1992 - 24 Hour Gambling Permitted Full-Time
A law was passed that allowed Atlantic City casinos to operate 24-hours 7 days a week.
February 2013 – Passing of Online Casinos Law
The New Jersey State Assembly passes a bill 35-1. On the same day, NJ Governor Chris Christie signed the bill into law. This meant online gambling was legal in the state. Online casinos and AC casinos are eligible to apply for licenses.
November 21 2013 – Soft Launch for Online Casinos
As required by law, a soft launch law party for online gambling starts. Many Atlantic City casinos are able to offer their games online to players all over NJ.
November 26 2013 – Land Based Casinos Go Online Permanently
Soft launch party ends and licensed casinos can operate online 24/7. However, Resorts Casino Hotel does not offer online games.
February 2015 – Resorts Casino Hotel Goes Online
Resorts Casino Hotel finally jumps onto the online bandwagon on the 20th of February 2015. Players can now play games from Resorts Casino online.
November 2015 – Resorts Casino Introduces Loyalty Program
This loyalty program is the first of its kind. It offers loyal VIP players with gifts and getaways. These would be custom for players.
FAQS for Gambling in New Jersey
Can I gamble online in NJ?

Yes, New Jersey is one of three states in the US where online casino gambling is legal. Each online casino in the state has an Atlantic City casino partner. For the best online gambling experience, we suggest playing at a legal casino that is regulated.
Does Texas have any casinos?

Borgata Casino. Atlantic City.
Hard Rock Casino. Atlantic City.
Gateway 26 Casino. North Wildwood.
Golden Nugget Casino. Atlantic City.
Tropicana Casino. Atlantic City. ...
Caesars Atlantic City Casino. Atlantic City.
Resorts Casino Hotel. Atlantic City.
Monmouth Park Racetrack. Oceanport.
Is gambling illegal in new Jersey?

In New Jersey, players can legally place bets at licensed casinos and horse racing.
Can you gamble at 18 in NJ?

No players cannot gamble at 18 in NJ. There are no 18+ casinos as players need to at least 21 years of age to legally gamble in New Jersey at land-based casinos. However, it is legal for players of 18 years to gamble at offshore online casinos outside of the state lines.
Does New Jersey have casinos?

Players will find 23 casinos and pari-mutuel facilities across 12 cities in New Jersey. Most of the casinos are located in Atlantic City.
Can you play online casinos in Texas?

There is no legal online casino in Texas. Players are restricted from gambling online or at casino sites offering real money prizes. It also includes betting on online slots.
When did gambling become legal in NJ?

Casino gambling became legal in New Jersey in 1976 when it was approved by the citizens of NJ. This was done as a unique tool of urban redevelopment for Atlantic City. In 1977, it was signed in to law by the New Jersey Casino Control Act (the Act).
Is poker legal in NJ?

Poker is legal in NJ after the passing of a bill that Gov. Chris Christie signed into law in February 2013.
Are raffles legal in NJ?

Non-profit organizations are permitted to raise funds through bingo events and raffles. However, they are obligated to follow the bingo and raffles licensing laws and regulations. However, to offer legal poker online, the websites must have the approval of the NJ Division of Gaming.
How old must you be to be a lottery ticket in NJ?

To purchase a lottery ticket in NJ, people must be at least 18 years of age.
How many casinos in are Atlantic City?

The Supreme Court has legalized sports gambling in Kentucky. There was unanimous approval of Currently, there are seven casinos operating in AC.

Tropicana
Caesars
Bally's
Resorts Casino Hotel
Golden Nugget
Harrah's.
Borgata
More State Laws