Where to Gamble in The State of Alabama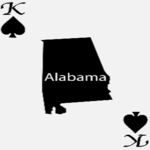 Alabama is not a very accommodating state for gambling. There are limited types of casino games available in Alabama casinos. Players can enjoy slot machines, bingo, and pari-mutuel games. Online gambling is not prohibited nor illegal. Alabama residents can freely deposit and play real money casino games, and withdraw winnings online. There are four land-based casinos that players can enjoy: Atmore Wind Creek Casino, Wetumpka Wind Creek Casino, Montgomery Wind Creek Casino, and Victory Land Racino.
Top Gambling Sites
Alabama Gambling Laws
Gambling in Alabama is a tedious subject. There are many religious groups that have clashed over the subject of gambling. The State constitution has a wide definition of gambling but bans all forms, with a few exceptions. There are penalties for individuals who do not adhere to the Alabama gambling laws. These penalties are even harsher on Sundays. The exceptions include dog and horse racing, as well as bingo and slots at tribal casinos. All forms are prohibited at Alabama land-based casinos.
Types of Gambling Allowed in Alabama
There are not many forms of gambling permitted. But here is a breakdown of what you can and can't do in terms of gambling in Alabama.
Casino Games: No, these are not permitted under the Alabama law. However, there are tribal casinos which are limited to bingo and slot games.
Online Casinos: No, but there are no laws for the online component of gambling.
Live Poker: No, it is not permitted. However, you can enjoy social poker at home where there is no financial gain.
Online Poker: No, it is not permitted under the state laws as it is considered a game of skill.
Sports Betting: Yes, it is allowed. But, it is limited to greyhound and horse races.
Lottery Bingo: No, there are no state lotteries in Alabama.
Bingo: Yes, you can enjoy bingo and make money from it. Bingo and other raffle games are also permitted for charity events.
Casinos in The State of Alabama
Casinos
Games
Other Services
Contact
Atmore Wind Creek Casino


Restaurants
Blowling Alley
Movie Theatre
Arcade

303 Poarch Rd, Atmore, AL 36502
1-866-946-3360

Wetumpka Wind Creek Casino


Restaurants
Hotel
Buffet
Bars

100 River Oaks Dr, Wetumpka, AL 36092
1-866-946-3360

Montgomery Wind Creek Casino


Hotel
Dining
Resort
Live Entertainment

1801 Eddie L Tullis Rd, Montgomery, AL 36117
1-866-946-3360

Victoryland


Slots
Bingo
Horse Racing
Dog Racing

8680 Co Rd 40, Shorter, AL 36075
800-688-2946

History of Gambling in Alabama
Alabama is one of the most conservative states when it comes to gambling. However, it has not always been that way. Some time ago, steamboat cruises with gambling aboard was an experience most people enjoyed in Alabama. Today, almost all forms of gambling are illegal in the state.
The 1901 constitution defines gambling as any game where there is the possibility of financial gain and the element of chance. This also includes games of skill. This will include the likes of poker.
However, Greyhound racing and horse racing were exempted from this constituting definition. The reason for this is that they argued these forms of gambling are based entirely on the skill of both the animal and jockey. There they do not fall under games of chance. Pari-mutuel betting is possible on-track. The events can also be easily televised.
There are tribal casinos in the state of Alabama which are permitted. However, there is a restriction on the types of casino games they can offer under the 1901 definition. Tribal casinos were limited to slots and bingo. There are no table games permitted.
Today, there has been no easing of gambling in Alabama. Many of those residing in the state who like to gamble, play online at offshore sites, or head Mississippi where it is legal.
Can Alabama Residents Play the Lottery?
There are currently no lotteries in the state of Alabama, but Alabama residents can cross borders into other states to purchase lottery tickets, and they can also be gifted lottery tickets by residents of other states. Online lotteries are also not permitted. Alabama is one of six states across the US, where the lottery is not hosted. Alabama winners do not have to have to pay state taxes on winnings, but they do have to declare it as an income.
Biggest Lottery Winner in Alabama
One resident from Alabama has won a multi-state lottery in 2003, which totaled $12 million.
FAQs About Gambling in Alabama
What cities in Alabama have casinos?

Eager players can find casinos in Shorter, Atmore, Montgomery, and Wetumpka.
Is gambling illegal in Alabama?

Gambling devices and casinos are considered illegal in Alabama. The Poarch band of Creek Native Americans are a federally recognized tribe in Alabama and legally operates three casinos around the state.
How many casinos are in Alabama?

Alabama has nine casinos with over 10,000 slot machines and other gaming machines.
Why is gambling illegal in Alabama?

The 1901 state constitution defines gambling as playing any game of chance for financial gain. This includes games of skill as well, where an element of chance is involved.
What is the legal gambling age in Alabama?

The minimum age of gambling for all types of betting is 19 in the state of Alabama.
Why is there no lottery in Alabama?

Alabama is one of the states that have cited religious beliefs as an objection to having a state lottery.
Is sports gambling legal in Alabama?

Sports betting is currently illegal in the state.
Is it legal to gamble online in Alabama?

There are no specific laws prohibiting online gambling; the only types of betting that are considered legal is para-mutuel facilities.
Casino State Info