Gambling in Arkansas 2023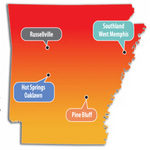 Gambling in Arkansasin 2023 is legal thanks to new legislation brought in in 2018. You can head to the state of Arkansas and enjoy games of chance like the ever-popular poker, blackjack, baccarat, craps, and roulette. The local racinos offer horse and greyhound betting, and the Arkansas Scholarship Lottery offers lucky draws, and scratch cards, the proceeds of which go to local educational programmes. Bingo and raffles are also available under the regulated 'Charitable Gambling' legislation'. There are no specific laws with regards to online gambling in Arkansas.
Online Gambling in Arkansas
Where to Gamble in Arkansas State
The only legal gambling permitted are horse, and greyhound racing, and popular casino games like slots, digital roulette, blackjack, craps, and poker. You can access these casino games at Oaklawn Park Racing & Gaming and Southland Park Gaming & Racing in West Memphis. These two casinos opened in 2019, with more scheduled for construction. The new casinos are to be built in Jefferson County, and Pope County.
What Type of Casino Games Are Legal in Arkansas?
Arkansas has several options of casino games and gambling for eager players. There is a state lottery, slot games, poker, roulette, baccarat, and blackjack, and sports betting is also on the cards for the future.
What Is the Biggest Casino In The State of Arkansas?
Southland Casino and Racing is the largest casino in the state of Arkansas. It holds 2,000 slot machines, and 40 live table games on 28,000 square feet.
The second largest casino in Arkansas is the Oaklawn Racing Casino Resort in Hot Springs which has 1,300 slots, 22 live table games, and 200 rooms.
History of Gambling in Arkansas
1874 – Only lotteries were legal in he eyes of the constitution.
1890 – Sportsman Park opens and increases the interest in thoroughbred racing.
1940 – The Oaklawn Jockey Club is created and another horse-racing track opens.
2018 – The Supreme Court strikes down the old laws prohibiting sports betting.
2019 – Oakland and Southland venues start expanding into full-offering
Lottery in Arkansas
The state of Arkansas now offers eager players a sweet selection of instant games, Powerball, Mega Millions, Cash 3, and the exclusive Natural State Jackpot which is the state's lotto-style game. The Arkansas Scholarship Lottery has paid out more than $3 billion in prize money since 2009. For the year of 2019, the state scholarship lottery raised more than $50 million for college scholarships.
Residents of Arkansas are convinced that some spots are luckier than others to purchase lottery tickets with some stores having produced more winners than others.
Arkansas Online Gambling FAQs
Is it legal to gamble in Arkansas?

Gambling is considered illegal under the Arkansas State laws, and the penalties in place remain the same as in the 1960s. if caught engaging in illegal gambling activities, you can be fined $10 - $25.
Does Arkansas have casinos?

Oaklawn Racing & Gaming in Hot Springs and Southland Gaming and Racing are the state's two racinos, and two new casinos are on the cards for the state.
How many casinos are there in Arkansas?

There are currently six casinos in Arkansas state in the USA. These venues hold over 9,000 slots, and over 250 table games like poker, blackjack, roulette, etc.
How old do you have to be to go to the casino in Arkansas?

You have to be 21 years of age to enter the casino and 21 to play any casino games. Arkansas state laws make it illegal to gamble on the gaming floor if you are under 21 years of age.
How do I report illegal gambling in Arkansas?

If you have suspicions that a gambling house is operating illegally, contact your local authorities.
Is bingo legal in Arkansas?

Bingo and raffles can be played by charitable groups in Arkansas. Approximately 140 charitable groups are licensed in Arkansas and they can offer bingo games and sell raffle tickets to fund their causes.
More State Gambling Info