Where to Gamble in Iowa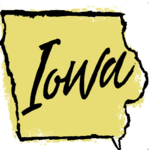 Gambling in Iowa started on riverboats during the 1800s, and it was also the first state to legalize riverboat casinos. In 1989, the state decided to regulate gambling, and in doing so, became the fourth state to legalize and regulate casino gambling. Today, Iowa has riverboat casinos, Native American casinos, and pari-mutuel (racing) casinos throughout the state. This state also offers a state lottery (available as tickets sold over the counter), horse racing, and charity gambling, and dog racing. Off-track betting is considered legal online. Fantasy sports sites are considered illegal in Iowa, and charity games offered through lodges, churches, and other organizations need to be registered with the state. The minimum gambling age is 21 years, and 18 years for bingo, and pari-mutuel casinos.
Best Gambling Sites
Iowa Gambling Laws
Iowa is one of few states where most forms of gambling are allowed. The state offers various different forms of gambling. This includes social gambling, bingo, state lotteries, charity raffles, and complete casino gambling. Today, you can even bet on sports betting.
What Type of Casino Games are Legal in Iowa?
Iowa offers approximately 22 land-based casinos which have slots, poker, craps, roulette, blackjack, and other table games. These casinos also offer a host of other luxury features, and amenities. The slots come in a variety of exciting themes, betting options, and payouts.
Race Horses: Yes, horse and greyhound races were one of the forms of gambling to be legalized in the state.
Lottery: Yes, the lottery was next to be legalized after races. You can buy state lottery tickets from any convenience store. There are no online ticket sales.
Charity Events: Yes, but the organizers need to register with the state to offer games like bingo or raffles.
Slots: Yes, you can enjoy hundreds of different slot games at local casinos.
Table Games: Yes, there are various table games you can enjoy in Iowa. These include blackjack, craps, roulette, and poker.
Best paying casinos in Iowa:
Ameristar: 90.4%
Hard Rock Casino: 90.4%
Diamond Jo Worth: 90.3%
Isle Casino: 90.2%
Lady Luck: 90.1%
Isle Casino: 90.0%
Harrah's: 89.5%
Horseshoe: 89.2%
What is the Biggest Casino in the State of Iowa?
The Horseshoe Casino in Council Bluffs offers eager punters over 100,000 square feet of casino floor, high-limits blackjack games, world-series poker games, table games, and more than 1,300 slots.
Best Casinos in Iowa
Casinos
Games
Other Services
Contact
Riverside Casino & Golf Resort®


Slots
Table Games
Poker
Video Poker

Hotel
Golf Course
Spa
Indoor & Outdoor pool

3184 IA-22, Riverside, IA 52327
(319) 648-1234

Diamond Jo Worth Casino


Restaurants
Hotel
Live Entertainment

777 Diamond Jo Ln, Northwood, IA 50459
(877) 323-5566

Meskwaki Bingo Casino Hotel


Slots
Table Games
Poker
Bingo

11504 305th St, Tama, IA 52339
(800) 728-4263

Prairie Meadows Casino, Racetrack, & Hotel


Slots
Table Games
Sports Betting

Hotel
Restaurants
Live Entertainment

1 Prairie Meadows Dr, Altoona, IA 50009
(515) 967-1000

Wild Rose Casino & Resorts


Slots
Table Games
Sports Betting

Hotel
Live Entertainment
Restaurants

777 Main St, Emmetsburg, IA 50536
(712) 852-3400

Grand Falls Casino & Golf Resort®


Slots
Table Games
Sports Betting

Hotel
Golf Course
Live Entertainment
Restaurants

1415 Grand Falls Blvd, Larchwood, IA 51241
(712) 777-7777

Lottery Ticket Sales in Iowa
The lottery in Iowa in managed by the Multi-State Lottery Association, which includes Lotto America, Mega Millions, Powerball, Pick 3, Pick 4, Lucky for Life, InstaPlay, instant scratch tickets, and pull-tab games. The first lottery tickets were sold in 1985, with more than 6.4 million tickets during the first week of its inception. Revenue from the lottery has raised more than $2 billion for state programs like veteran trust funds, public safety survivor benefits initiatives, and tourism funds.
Biggest lottery winners in Iowa
The Iowa lottery has made some big winners since its inception.
$343 million, Lerynne West
$241 million, Quaker Oats Co-Workers
$202 million, Lohse Family
$200 million, Timothy Guderian
$113 million, Hugh Hawkins
$31 million, Haskin Family
FAQs About Gambling Iowa
Is online gambling legal in Iowa?

There are no specific laws prohibiting online gambling in the state of Iowa. Online sports betting is legal in the state.
Can you play online poker in Iowa?

Iowa laws prohibit residents from playing at online gambling sites from within the state. Players are able to play poker at sites that do not originate from within the state.
Can you bet on Iowa teams in Iowa?

Enthusiastic players can bet on their favorite sports teams in Iowa, but only on the results of college games, and not in-game proposition bets.
Is sports gambling legal in Iowa?

Residents of Iowa who are 21 years or older are allowed to bet on sports events at the numerous casinos around the state. Players are also allowed to bet online if they have proved at a land-based casino that they are 21 or older. Sports betting is also legal through websites and apps like DraftKings and FanDuel.
Can you bet on sports online in Iowa?

nline sports betting was legalized in May 2019 and is overseen by the bodies of Iowa Racing and Gaming Commission.
Is DraftKings sportsbook legal in Iowa?

Iowa is the 11th state to allow legal sports betting since May 2019. Players can place wagers through DraftKings if they are 21 and over, have a valid United State Social Security Number, and physically resides in Iowa.
U.S Gambling Laws