USA Casino State Laws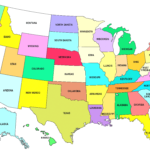 Gambling in America generates $92.27 billion in gross revenues. Casino state laws show gambling of some form is legally available in 48 states. Hawaii and Utah are the only two exceptions. The casino gambling industry is said to be worth around $240 billion and employs 1.7 million workers across 40 states. Gaming taxes in the USA contribute $8.5 billion annually in state and local tax revenues.
Fortunately, for online players, online gambling is allowed in most of the US states. Only a few states impose online gambling regulations. Crazy Vegas Casino offers an extensive gambling guide for US players. We look at both brick and mortar and online casino regulations for each state as well as the different forms of gambling, from casinos to lotteries, to horse racing and more. We will
Biggest Legal Casino Sites in the US
Commercial Casinos vs. Native American
In America, players will find commercial casinos and Native American casinos. Commercial casinos are those players will find in the states such as Las Vegas. These casinos are owned by renowned companies such as the Las Vegas Sands, Wynn Resort, Caesars Entertainment, and MGM Resorts. There are 474 tribal casinos located across 28 states. In some states, players may find both commercial and tribal casinos, while in other states they may only have one or no casinos.
Legal Native Casinos
In 1987, native tribal casinos were permitted after a US Supreme Court decision. The case, California v. Cabazon Band of Mission Indians, led to the 1988 Indian Gaming Regulatory Act. This act gave Native American tribes the right to build tribal casinos. In the court ruling, tribes were to sign treaties with the United States federal government to be considered as sovereign nations for the purposes of gambling.
The Native American tribe had to be recognized by the US Interior Department of Bureau of Indian Affairs prior to 1932, to be eligible to build a casino. If they were not recognized, then the Department would have to grant a waiver. In addition, tribes were restricted from building the casinos on Native American reservations. Otherwise, subsequent rulings allowed tribes to buy private land for casino development. However, the purchased land had to be attached to the reservation lands.
Tribal Casinos vs. Commercial Casinos
Gaming compact to legally operate: The tribal authority for the Native American casino must agree to a gaming compact laid out by the state in which it is located. The tribe must also agree to pay taxes to the state for the regulating of the casino. However, the state cannot charge more than the cost of regulatory oversight.
Granting concessions: Higher taxes can be negotiated by states if the tribal casinos are given certain concessions. For example: it may include a monopoly inside a state on particular games, or agreements for new casinos.
Gaming Machines
Class III – Tribal casinos are not permitted to offer these games. These include casino games such as: slots and video poker, where the results are independently based on every spin.
Class II – Tribal casinos are permitted to offer these gambling games. These jackpots follow the same format as lotteries and a raffle. In these games, a winning result on one spin can reduce the odds of winning big.
Banked Table Games: These include games such as blackjack, baccarat, or roulette, where players take on the dealer. These games are also referred to as house-banked games as the casinos take on the role of the dealer. Such games are not allowed to be offered in the state of California.
California Craps: In California, regardless of whether it is a tribal or commercial casino, dice games such as craps cannot be resolved. Instead, these games are played with cards or with a combination of dice and cards.
States Where Gambling Is Legal
Gaming is legal in 48 states in the USA, located across four regions. Here is a list of the states where players will find casinos in these four regions.
Casinos in the Northeast
Connecticut
Maine
Massachusetts
New Hampshire
New Jersey
Pennsylvania
Rhode Island
Casinos in the MidWest
Michigan
Illinois
Indiana
Iowa
Kansas
Minnesota
Missouri
Nebraska
North Dakota
Ohio
South Dakota
Wisconsin
Casinos in the South
Delaware
Louisiana
Alabama
Arkansas
Florida
Texas
Georgia
Kentucky
Maryland
Mississippi
North Carolina
Oklahoma
South Carolina
Tennessee
Virginia
West Virginia
Casinos in the West
Arizona
California
Colorado
Idaho
Montana
New Mexico
Nevada
Oregon
Washington
Wyoming
What States Do Not Allow Casino Gambling
There are only two states that have completely banned all forms of gambling in the USA. These are Hawaii and Utah. There are also a select number of states where there are land-based casinos; however, betting on lotteries is forbidden. These include: Alabama, Alaska, Hawaii, Mississippi, Nevada, and Utah. In the Tennessee state, there are no regulations for any form of gambling, nor is it allowed. However, they have not raised any concerns with online gambling.
Common USA State Gambling FAQs
What states do not allow casinos?

The following states do not have any land-based or tribal casinos.

Alaska
Hawaii
Georgia
Utah
Nebraska
Tennessee
Kentucky
South Carolina
Virginia
Vermont
Can you gamble in Nevada at 18?

There are no 18+ casinos in the state of Nevada. Just like all other states in America, players need to be 21 years of age to gamble.
How many states have at least one casino?

Currently, there are 40 states in America with at least one casino.
Which states have regulated online poker?

Through state legislature, there are only a handful of states where poker has been legalized.
Are casinos legal in the USA?

Yes, casinos are legal. However, they are refined to state laws.
Are there still safe sites to play online poker and casino games from the US?

Yes, there are casino sites where it is safe to play online poker and casino games. Players can easily find safe online casinos in our table above.
Casino Info By State