Gambling in Hawaii State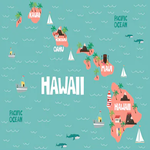 Hawaii is one of only two states in the United States where gambling is not allowed. This includes sports betting, bingo, or lotteries. The other state which does not allow gambling at all is Utah. Cruise ships traveling between the Hawaiian Islands are not allowed to offer gambling activities.
Best Online Gambling Sites
Types of Gambling in Hawaii
Hawaii does offer social poker games, but players are not legally allowed to turn a profit on games. Hawaii's online poker legislation allows pubs and public spaces to host poker tournaments, with stringent rules applying to game play: The hosts are not allowed to charge buy-ins for poker games. The rules of not making a real money profit on poker games in Hawaii extend to not selling food or drinks to players during games.
What is the Biggest Casino in the State of Hawaii?
There are no land-based casinos in Hawaii. Due to stringent legislation outlawing all types of gambling in Hawaii, eager citizens do not have access to typical casino games like video slots, three-reel slots, blackjack, video poker, roulette, and other table games. For people in Hawaii who wish to participate in gambling games are required to travel to another state where it is legal.
Lottery Ticket Gambling in Hawaii
There is no lottery, online or land-based, available in the state of Hawaii. Hawaii is not the only state which does not have a state lottery. Other states that do not offer official lottery sales:
Alabama
Utah
Alaska
Mississippi
Nevada
Supporters of lottery ticket sales in the state of Hawaii argue that citizens should be able to buy tickets in Hawaii. Lottery revenue is often used to fund state-initiatives like scholarships. Each state has its own reasons for not allowing lottery sales, including religious beliefs, oil-wealth, and disputes with existing gambling bodies. Hawaiians can purchase lottery tickets in other states, creating a loss of revenue for the state.
Hawaiin Citizens Can Win the Lottery in Other States
Although the lottery is not allowed in Hawaii, citizens can purchase tickets in other states. Hawaii taxes lottery winnings at about 11%. California and Delaware do not tax lottery winnings.
FAQs About Gambling in Hawaii
What cities in Nevada have casinos?

The following cities in the state of Nevada have at least one casino:

Boulder City
Carson City
Crystal Bay
Dayton
Elko
Ely
Enterprise
Fallon
Henderson
Jean
Lake
Las Vegas
Laughlin
Mesquite
Minden
North Las Vegas
Pahrump
Paradise
Primm
Reno
Searchlight
Sparks
Stateline
Summerlin
Sunrise Manor
Tonopah
Topaz
Verdi
West Las Vegas
West Wendover
Winchester
Winnemucca
Yerington
>
Is gambling legal in Nevada?

Nevada is one of two states where casino-style gambling is statewide. The other state is Louisiana.
What was gambling legal in Nevada?

Gambling became legal in Nevada in an attempt to get the state out of the great depression.
Are there casinos in Hawaii?

Vegas-style cruise ships are the only option for gambling, and only when in international waters. There are no land-based casinos in Hawaii, and online gaming is also not allowed.
Can you gamble in Honolulu?

Gambling is considered illegal in Honolulu, as well as other areas within Hawaii.
Can players gamble online in Hawaii?

Hawaii has no land-based casinos that offer the standard range of casino games, but players can indulge in certain online gambling activities like games of skill, not games of chance, which most casino games are. Citizens can legally gamble on skills-based games online.
Why are there no casinos in Hawaii?

The citizens of Hawaii feel that gambling will remove the family-orientated atmosphere that they've established. They also believe it could be detrimental to the fabric of their society in many ways.
What types of gambling are allowed in Hawaii?

Standard casinos offer games like video slots, classic slots, blackjack, video poker, roulette, and more table games. The only type of gambling allowed in the Aloha states is social gambling. Gambling aboard cruise ships in international waters is allowed, but not anywhere near Hawaiian waters.
More State Laws