Gambling in Alaska 2023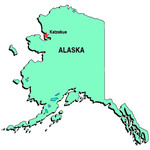 The state of Alaska has stringent laws against land-based casino gambling. Players are not able to access casino games like slots, blackjack, video poker, or roulette. Alaska does allow betting on dog mushing contests, and pull-tab games, a type of paper-based lottery. Alaskans can also partake in sports betting, casino games, and poker games online. The inhabitants of the Land of the Midnight Sun also gamble on odd activities like salmon merchandise, the first appearance of cranes, and other animal-centric activities. The rules do state that no one makes a profit from hosting the casino games, or raking the pots. Online gambling is not restricted in Alaska.
Top Online Gambling Sites for Alaskan Residents
Online Gambling in Alaska
The laws regarding gambling in Alaska do not specifically address online gaming. Land-based casinos are completely outlawed in the state, but there are no federal or state laws which specifically and explicitly prohibits online gambling in Alaska. Residents can enjoy real money gambling games like slots, roulette, blackjack, video poker, and classic slots. However, they must be over the age of 21 years to play online in Alaska.
Bingo in Alaska State
Bingo was first introduced legally in 1960. Alaska has about 13 bingo halls around the state. Bingo halls must have a permit, and can only be run by a charitable organization, or a native group. Bingo is defined as a game of chance where players mark numbers off on a card as they're randomly drawn by a caller. The winner is the first person to mark off all numbers, or a select group of numbers.
Lottery in the State of Alaska
Lottoalaska.com offers a type of lottery for Alaskan citizens. Chase the Ace is a local lottery which is run by a non-profit organization. 20% of the profits go towards the weekly prize, 30% goes towards the jackpot amount, and 50% goes towards nonprofit endeavors and expenses. The jackpot is usually a guaranteed minimum amount of $10,000.
FAQs for Gambling in Alaska
Is casino gambling legal in Alaska?

There are no legal, land-based casinos in the state of Alaska. There are a few tribal and native gaming houses where players can enjoy bingo or pull-tab games. Alaskan citizens can also explore standard casino games like slots, blackjack, video poker, baccarat, and roulette on cruise ships that travel to international waters.
Is poker legal in Alaska?

Alaska state does not have any regulated or licensed poker casinos. This is unlikely to change in the near future. Social poker games in homes are permitted, but on the condition that there's no rake.
How many casinos are there in Alaska?

While there are no actual brick-and-mortar casinos in Alaska, there are 10 gaming halls in and around the state of Alaska:

MIC Gaming Hall
Klawork IRA Pull Tab Shoppe
Agate Pull Tabs
Atka Ira Council Pull Tabs
Native Village of Borrow Pull Tabs
Kake Tribal Heritage Bingo
Sitka Tribal Bingo
Juneau Tlingit and Haidi Tribal Bingo
Royal Caribbean International - Radiance of the Seas
Crystal Cruises - Crystal Serenity
How old do you have to be to be able to gamble in Alaska?

18 years old – pari-mutuel contests
19 years – bingo games
21 years old – pull tabs games
21 years old – casino cruises
Gambling in Different States